Welcome to the next installment of the Product Swap - hosted by Jessica Stanford at Mrs. Stanford's Class!
My amazing partner is Mary from Teaching With a Mountain View.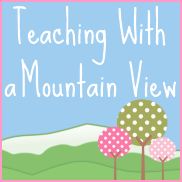 Check out her TPT store right now!!!!! She has

MANY

fabulous resources available.
I couldn't wait to sample her "Let's Go Shopping" multiplying and dividing decimals activity. This item can be purchased separately, or as part of a HUGE bundle of decimal resources.
I wanted to use this activity with my fifth graders as a group performance task review for our decimals assessment. W
ith the new Smarter Balanced assessments looming, my students need lots and lots of experiences with performance tasks.
The premise of the performance task is that students will "go shopping" at a candy store. (The activity also includes a snack shop and bakery menu with tasks as well) They will need to multiply and divide money to determine the cost of the candy they will need for specific situations.
Here's the description from Mary's TPT store -

Enrich your multiplying and dividing decimals unit with these fun and engaging resources! Students use fun and colorful menus (print great in black and white, too) to practice their multiplying and dividing decimals skills! You can use this is an independent project, homework, math centers, or even a final unit assessment. Aligned to common core and practices depth and complexity of this skill.

Included in the packet you will find the following:

3 Menus: Snack Shack, Bake Sale, and Candy Corner

3 Corresponding Worksheets for EACH Menu (9 activity sheets total): There is a Multiplying Decimals, Dividing Decimals, and Multiplying and Dividing Decimals worksheet to accompany each menu. If you aren't ready to teach division yet, no problem! Hang on to them until you are ready and just use the multiplication sheets now.
Here's a peek at how I utilized the activity -
First, I printed out five "Candy Corner" store menus in color, and laminated them, so that each team of students would have a menu for reference.
How cute is this menu!!!
Secondly, I made a packet that included the multiplying decimals tasks, dividing decimals tasks, multiplying/dividing decimals mult-step tasks, and a black and white menu.
Then, we went shopping! It took about ten minutes to distribute the packets, announce the groups, and discuss the directions. For the remainder of math class, the students worked dilligently in their groups and authentically practiced multiplying and dividing decimals. It was a joy to watch them work. I walked around and questioned and probed their thinking, but beyond that they were very independent.
This is definitely an activity I will use again to supplement my decimals unit!
Lastly, we all know that task cards are also great for reviewing, and Mary has tons and tons of AWESOME task cards to choose from. I'm using the multiplying and dividing decimals cards next week and I've wishlisted several fraction sets for our next unit!!!